Our Cleanliness Commitment
Caring Hospitality, Calistoga Charm
The Bergson is focused more than ever on the health and safety of our guests and associates. We stand ready to provide a clean and safe home away from home in Napa Valley.

Our caring staff receives frequent wellness and safety training. Guests can take comfort in knowing that we are committed to your well-being and comfort. We truly care about you and your family's health, and look forward to welcoming you to our Inn.
Before You Arrive
Throughout the Hotel
Enhanced safety practices at the front desk, in the lobby, and in all common areas.
Streamlined check-in and check-out process.
Practicing all safety protocols during guest interactions.
Disinfecting everything you touch from the front desk surface to the pens you use.
Removed shared lobby items and have established strict cleaning schedules for lobby furniture and fixtures.
Hand sanitizing station in the lobby.
All associates take daily temperature checks before beginning their shift and are instructed to not come to work if they are not feeling well.
Staff undergoes frequent wellness and safety training.
Separate laundry carts are used for dirty and clean linens/ towels to prevent cross-contamination and they are disinfected daily.
Laundry facilities and equipment are routinely inspected and sanitized with approved cleaning chemicals.
Rooms & Suites
Prior to your arrival, the room will be sanitized, disinfected and closely inspected.
Housekeepers wear gloves and masks to ensure your safety and theirs.
Every guest room is also sanitized with an electrostatic disinfectant sprayer as an added precaution.
Every high tough point is cleaned with CDC recommended and approved chemicals aimed at killing the coronavirus - door handles, light switches, desks, coffee makers, phones, alarm clocks, thermostats, and all bathroom fixtures and handles.
Every keycard is disinfected and sanitized with CDC approved cleaning agents.
The room you stay in will likely have not been used for 24 to 72 hours from the previous guest as a form of physical distancing.
All linens and terrycloth products will be washed at high temperature water with CDC approved chemicals aimed at killing the coronavirus.
Per the CDC, stay over housekeeping service will not be provided.
Clean towels and/or linens will be provided upon request
Breakfast
Currently we are offering breakfast daily in our lobby in compliance with Napa county requirements.
Our outdoor courtyard has properly distanced seating available and many of our rooms have private patios.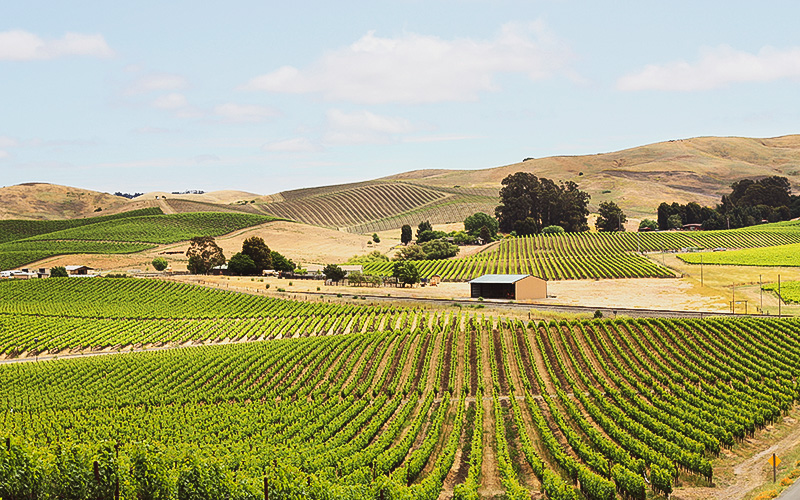 Napa Valley Outdoors
Located in beautiful Calistoga, The Bergson is a safe retreat surrounded by the natural beauty and adventures of Napa Valley. Enjoy the clean wine country air, relax in our courtyard by the fountain, or walk to downtown Calistoga for outdoor dining.
Stroll down the block to wineries and wine tasting rooms
Enjoy hot air balloon rides above the valley and vineyards
Cycle along old wine trails
Hike out in the fresh open country air
Rejuvenate in Calistoga's hot springs and geothermal mineral waters
Message from our General Manager
"The health and safety of our guests and staff is our top priority. Rest easier knowing that we have taken every step to provide a clean and safe environment at The Bergson. We continue to keep your health and wellbeing at the forefront with enhanced cleaning standards throughout the hotel. Thank you for the privilege of sharing our inn with you."